Why do Men & Women want different things from a Bathroom?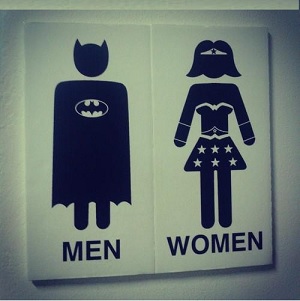 YOUR BATHROOM IS ONE OF THE MOST IMPORTANT ROOMS IN YOUR HOME.
Yes, your bathroom might also be one of the smallest, yet one of the busiest, especially first thing in the morning. While most modern Irish homes have a main bathroom, at least one en-suite and a downstairs toilet, the older ones have only one shared bathroom suite. Even with only two people living in a house, a shared bathroom suite can spell trouble! If you are sharing this important facility with one of the opposite sex, you will know that men and women use the bathroom in different ways and require different elements from the space. Lets have a look at a few of the differences.
WHAT MEN WANT IN A BATHROOM:
1) Large, powerful shower, preferably with a large rain head, fixed shower head.
2) Basin big enough to shave in (and wash feet if required!)
3) Cabinet with mirror and shaver socket over the basin (everything within easy reach)
4) A mirror with electric de-mister fitted (so they can see themselves to shave after the shower has been used by their partner)
5) Toilet roll holder big enough to hold two toilet rolls (to be sure, to be sure)
6) Heated towel rail for warm towels (well, Mammy used to warm the towels!)
7) Magazine rack and some gadgets to impress their friends (built in TV or deck lighting in the floor tiles)
8)Tiles the colour of his favourite football team
WHAT WOMEN WANT IN A BATHROOM:
1) A place to de-stress and pamper.
2) A double ended bath with a shelf within easy reach for a glass of wine and a book
3) An adjustable shower head (so that they don't have to wash their hair every time they take a shower)
4) Under floor heating (if the feet are warm the rest of the body feels fine!)
5) Vanity unit under the basin to store their toiletries.
6) Full length mirror (that makes them look slim!)
7) Tiles that bring a calming feel to the room Good lighting over the basin for make-up artistry
8) Auto close toilet seat (especially for their partner!)
9) Shower doors with no grooves or wheel tracks that are difficult to clean
10) Tranquil music
11) Auto air freshener (again, for their partner!)
So, even though the above is a little fun, we can see from these few differences that when planning a new bathroom suite, an independent designer who understands the needs of the users, is a good starting point.
Now you're ready for the next step: Planning your bathroom suite design
Check out our 3D  Bathroom Design Ideas page for bathroom layout ideas.