Choosing your new bathroom suite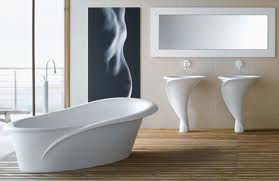 So you have decided to upgrade your bathroom! You have put up with the old leaking shower door and lime stained basin for long enough and you are tired of your rusting discolored taps, which do not turn off properly without use of a torque wrench!
When you consider the importance of your bathroom or en-suite to get your day off to a great start, it really is a job worth doing.
We have a selection of the finest products for your bathroom. Drop into our Bathroom Showroom to get a feel for the products before you buy.
Bathroom-choices
Coming to a decision on the overall style or 'feel' for your new bathroom is probably the hardest part of the process. Apart maybe from choosing between the many quality bathroom suites and accessories we have on offer to beautify your new bathroom. So where do you start.
Usually the biggest and most visible part of your bathroom suite is the bath. Some people decide not to replace the bath and go for a shower enclosure instead. If the bath is not popular anymore with the occupants of your home then there is really no good reason to keep it.
Installing a shower will give you extra space in your room too. However, for the people who like to relax after a stressful day in work or a heavy day in the garden, or even to relax for a half hour with a glass of wine and a book, away from the rest of the family, then its hard to beat a hot foamy bath!
If that's you, then visit our free-standing baths section by clicking on the image below.
You will find a choice of stylish quality baths there, all of which can be mixed and matched with our basin and toilet combinations to create that wow factor in your bathroom. Baths made from an acrylic resin combination give great sheen, and yet are extremely strong and durable.
If Free-standing Baths are not for you, take a look at our full selection of Baths to suit any taste. Click the image below
Keep in mind that it is advisable to decide on your bath and basin/toilet combination at the same time so that you can continue the design theme throughout.
For example, if you have chosen a corner or offset corner bath, then the basin and toilet should reflect that shape by having rounded corners at the bottom of the pedestal and toilet. The basin bowl should also have soft rounded edges, the shower enclosure and tray should also have a rounded thyme such as a quadrant shower. Alternatively, if your bath has more square shaped corners then that should be reflected in your choice of toilet, basin and shower.
In our ensuite bathrooms section you will find a choice of modern and traditional basins and toilets, all made from beautiful yet durable 'glazed vitreous china'.
Your taps also reflect the thyme of the bathroom and there are many shape and sizes of bathroom taps available today. From the traditional cross head taps to the modern mono mixing taps, you'll find them all HERE for you to choose from.
Take a look at our tap section here
Probably the most popular section of our Bathroom Showroom at the moment is out Wall Hung Bathroom Furniture section.
Stunningly beautiful furniture which will turn your bathroom into what you have been dreaming about. Clean lines, clear floor, no pipes, no difficult places to try to clean, fresh, easily maintained and somewhere that you;re happy for your guests to see and admire.
Click the images above to take a peek!
Also consider exchanging your tired old radiator for a beautiful chrome heated towel rail.
Ask your plumber to calculate the heat required for the size of your room and buy a heated towel rail to match that requirement. Most normal size bathrooms will have a recommended heat of 70o F or 21o C. An average sixed room would be say 2.4mts x 2.4mts and in order to reach our target heat you would need an output of 4100 BTU. There are so many factors you will need to consider which can alter this approximate figure;
How high is the room, how much insulation is there in the walls and ceiling, is there an external wall and is there a window.